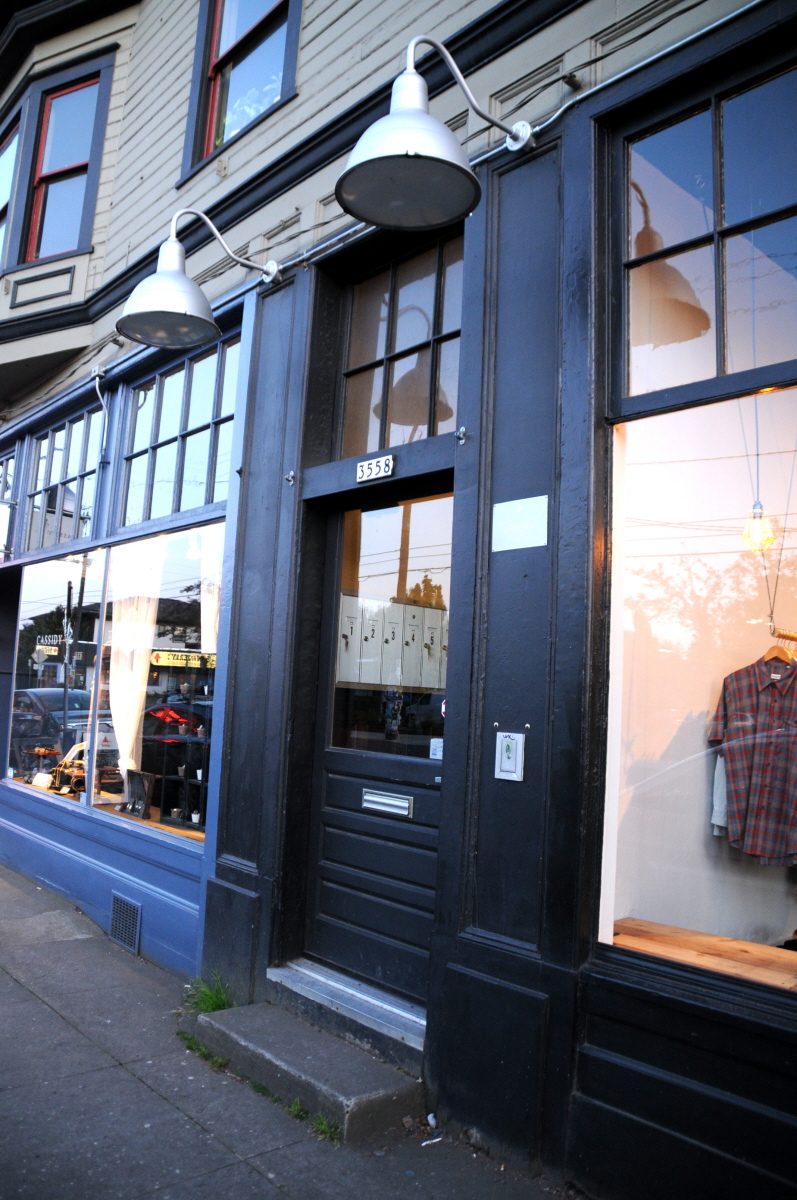 I am located on the second floor of a large historic building on the corner of SE Hawthorne Blvd and SE 35th Place. Please do not confuse with '35th Avenue', located west of 35th Place. There is a traffic signal at 35th Place which dead ends into Hawthorne on the north side of the street.
The outside building door is located between a clothing store ("Communion") on the west side and a boutique pet store on the east side of the building. The address number "3558" is located above the door. Many clients walk directly past the door, or are confused about which building I am in, so please see photo above to ensure you do not arrive late to your appointment. I am located upstairs in suite number 4 at the far back left. Please let me know if you are unable to climb stairs as there are 22 stair steps to my suite. I am happy to refer you to another therapist with a more accessible space.
The building is a locked building & I unlock the door 10 minutes prior to appointments. There is no need to arrive early to your appointment as intake time is accounted for in addition to your 'on the table' massage time. If you are more than 10 minutes early, feel free to walk around Hawthorne, but please do not call me for admittance or knock & bother the other tenants. It is likely I am still in a session with another client, returning phone calls or preparing the studio for your session.
If you are being picked up from your appointment, make sure the person picking you up understands the door will be locked until your session is finished & they will need to add about 20 minutes time for you to complete your intake, and to dress/undress. It is best if you are able to text or call them after your appointment to let them know you are ready to be picked up. Again, please let them know not to knock on the downstairs door and bother the other tenants.
Parking on Hawthorne may be difficult & the spaces are timed (after 6pm & on Sundays the timed spaces are not monitored). If you have a handicapped parking permit, you may park in a timed space (longer than 15 minutes) as long as needed. Otherwise, I recommend parking on a side street if possible. 35th Place usually has open spots within a block of the building. Be sure to give yourself extra time (about 5-10 minutes) to park & walk to the building prior to your appointment.
Please view photo above of the outside door to the building for reference. You may call prior to the day of your appointment if you need help driving from an out of area location. If you call while driving to the appointment, I am likely to be in session with another client and unable to assist you with directions.
Thank you for choosing to support my local, independent, Portland therapeutic massage business!